After watching the Theatertreffen premiere of "Death of Salesman", directed by Stefan Pucher, we're sitting on the banks of the Spree River in Berlin to chat through what we just saw. While we work away – selling our carefully crafted language to our adoring public – the artists are being honored, their hangers-on are smoking and drinking behind us.
Matt: I'm disappointed that we're getting the Beatles for the premiere party music right now – I feel like Elvis would be more appropriate.
Leo: Definitely. The Lomans tonight even had an Elvis record in their fancy 50s living room.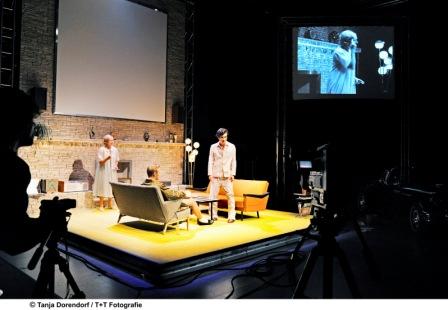 Matt: Did you read it as 50s? I saw the set as more late 60s, with all the burnt-orange furniture and mod chandeliers. And that gorgeous Ford Thunderbird was definitely 1960s.
Leo: True. I have to say that I'm not really sure how to read the period. It felt more like a juxtaposition of any Americana they could get their hands on.
Matt: Like the giant statue of a baseball player for example!
Leo: Or the stand with the USA postcards on it.
Matt: "Death of a Salesman" was written by Arthur Miller in 1949, and when produced in a "period" style, it's usually set in the 1950s. The play has that brooding post-war feeling, in which the idea that everything is possible, if you only put your mind to it, was already proving to be deceptive and destructive. Continue reading An American Melodrama