Self-titled "post-migrant" theater Ballhaus Naunynstraße sits just a stone's throw from the infamous Kottbusser Tor, birthplace of Döner Kebap and alleged headquarters for drug dealers, gangs and the corruption of German culture through immigrant influence. The Ballhaus' raging success Verrücktes Blut (Mad Blood) has been playing to sold-out houses since September 2010 and has received invitations to most of Germany's major festivals this year, including the Theatertreffen. What's so hot about postmigrantisches Theater? This lexicon provides a little introduction to the immigration debate currently raging in Germany.
For anyone interested in the topic of post-migrant theatre, Oliver Kontny, dramaturg of Ballhaus Naunynstraße, is delivering a lecture in English and German at Potsdam University tomorrow. 18:00 on May 12, Universität Potsdam, Neues Palais, Haus 09, Hörsaal 1.02. Entry free.
postmigrantisch: Shermin Langhoff, director of the Ballhaus Naunynstraße, didn't invent this term, but she's sure been instrumental in defining it. Ballhaus Naunynstraße defines itself as "postmigrantisches Theater," which is just to say: it's concerned with telling the stories of second- and third-generation Germans. Simple the definition may be; but the themes that belong to it are complex. Post-migrant theater asks questions about integration/assimilation, roots, language, education, equality, discrimination, religion, tradition and above all identity.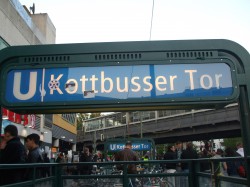 Migrationshintergrund: Literally, "migration background." I find this one especially problematic when I'm trying to speak in English about German race politics. In German, you can denote second- and third-generation Germans as "Menschen mit Migrationshintergrund" but it would sound awfully weird to talk about second- and third-generation Americans that way. The percentage of actors, directors, playwrights and other theatremakers in Germany with a migration background is far smaller than the corresponding percentage of the German population as a whole (in 2010, about 20%).
Multikulti: Actually, there's no use defining this one, since it's dead. Angie says so.
Thilo Sarrazin: Conservative politician who splashed the Multikulti debate all over German headlines with the publication of his book Deutschland schafft sich ab (Germany Abolishes Itself) in 2010. Also, he's really, really racist. After his book people kind of figured that out, which ultimately led to his resignation from his position as member of the Executive Board of the Deutsche Bundesbank. But the SPD (Social Democratic Party) just voted not to revoke his membership.
Continue reading A "post-migrant theatre" lexicon