Or Five Things I Learned From Sebastian Nübling
Keynote Speech at the opening of Stückemarkt 2011 on 8th May 2011 at Haus der Berliner Festspiele.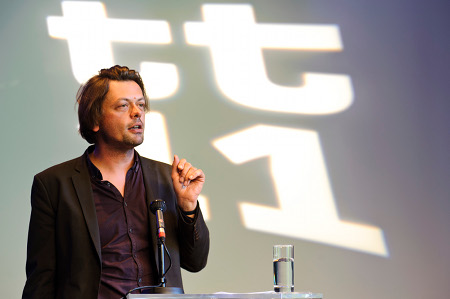 I have to confess something rather embarrassing. The title of this lecture is SKYDIVING BLINDFOLDED. I'm sure there are some people who are speculating as to why I've decided to call this lecture by that name. In what way is it to be an exploration of the suicidal or the daredevil? The unsighted and the insane? I have to confess that I don't really exactly know why myself. All I can say is that it was suggested to me that I deliver a lecture with the title "Infinite Diversity in New European Writing". The idea filled me with an odd mix of boredom and horror. So I invented a new title quickly without really knowing what it meant. So it doesn't mean anything. So don't expect me to explain why this lecture is called SKYDIVING BLINDFOLDED. Because I won't. Because I don't know why myself.
I gave it a sub-title yesterday which is more thematically relevant and which will form the body of the talk. The sub-title is FIVE THINGS I LEARNED FROM SEBASTIAN NÜBLING. For those of you who don't know, Sebastian is a German theatre director based in Basel in Switzerland. He directed the first German language production of any of my plays in 2003, has directed three other productions since and opens a fifth this Autumn in Tallinn and Munich. He's taught me a lot of things over the seven years of our collaboration. I'm going to share five of them with you. In a bit. Continue reading SKYDIVING BLINDFOLDED