Pretzel or Royal headgear. Andre Schurrle moving to Chelsea. How to properly translate Paddington Bear. Just a few of the highly controversial debates causing sparks to fly between the Germans and the Brits these days.
Yet tonight sees the Theatertreffen premiere of Night Train, a Schauspiel Köln and 59 Productions adaptation of Friederike Mayröcker's poetry which dispels any doubt that a German-British collaboration is not only possible, but capable of being "remarkable."
And despite being by definition the most German of German theatre festivals, Night Train's director Katie Mitchell and dramaturgs Duncan Macmillan and Lyndsey Turner aren't the first Brits to be included at the Theatertreffen. Last year alone featured three British playwrights: Dennis Kelly opened the Stückemarkt with the memorable speech "Why political theatre is a complete fucking waste of time," Pamela Carter nabbed the Stückemarkt commission prize (see the result for yourself on Friday 17th at the Maxim Gorki Studio), and Simon Stephens just missed out on a coveted Top Ten spot in the line-up with the German-British-Estonian production of his Three Kingdoms.
Clearly the Brits are infiltrating. But what do they really think of German theatre? I asked directors, playwrights, critics, actors and academics from across the UK to answer four simple questions. Here's what they said:
WHAT IS THE FIRST THING YOU THINK OF WHEN YOU HEAR THE WORDS "GERMAN THEATRE"?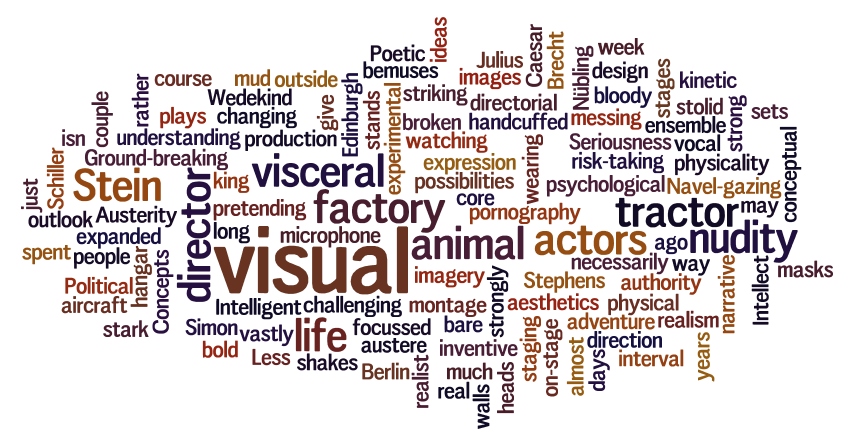 Continue reading I Beg Your Pardon: A Survey of the British Perspective on German Theatre